About Us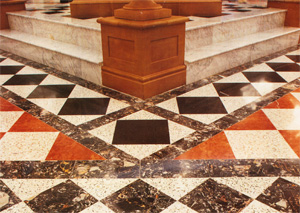 Pebblecrete products have been appreciated by architects, consultants and developers and used by many major construction companies (in Australia and overseas). The ability to offer a very versatile product that satisfies the individual requirements of various clients is facilitated by the very modern production plant.
Landmark projects successfully completed by Pebblecrete using reconstructed granite pavers (an all Australian product) and Terrazo floor tiles,have been a familiar site for many years.
The individual characteristics of the Pebblecrete terrazzo Tiles and Pavers, such as attractiveness, versatility and easy maintenance, are a firm favourite with architects and planners for projects such as large shopping centre malls, walkways, footpaths, railway station platforms, etc. etc.
Please click onto the "Major Projects Completed" section of this website and view the large variety of projects successfully completed by Pebblecrete In-Situ Pty Ltd.